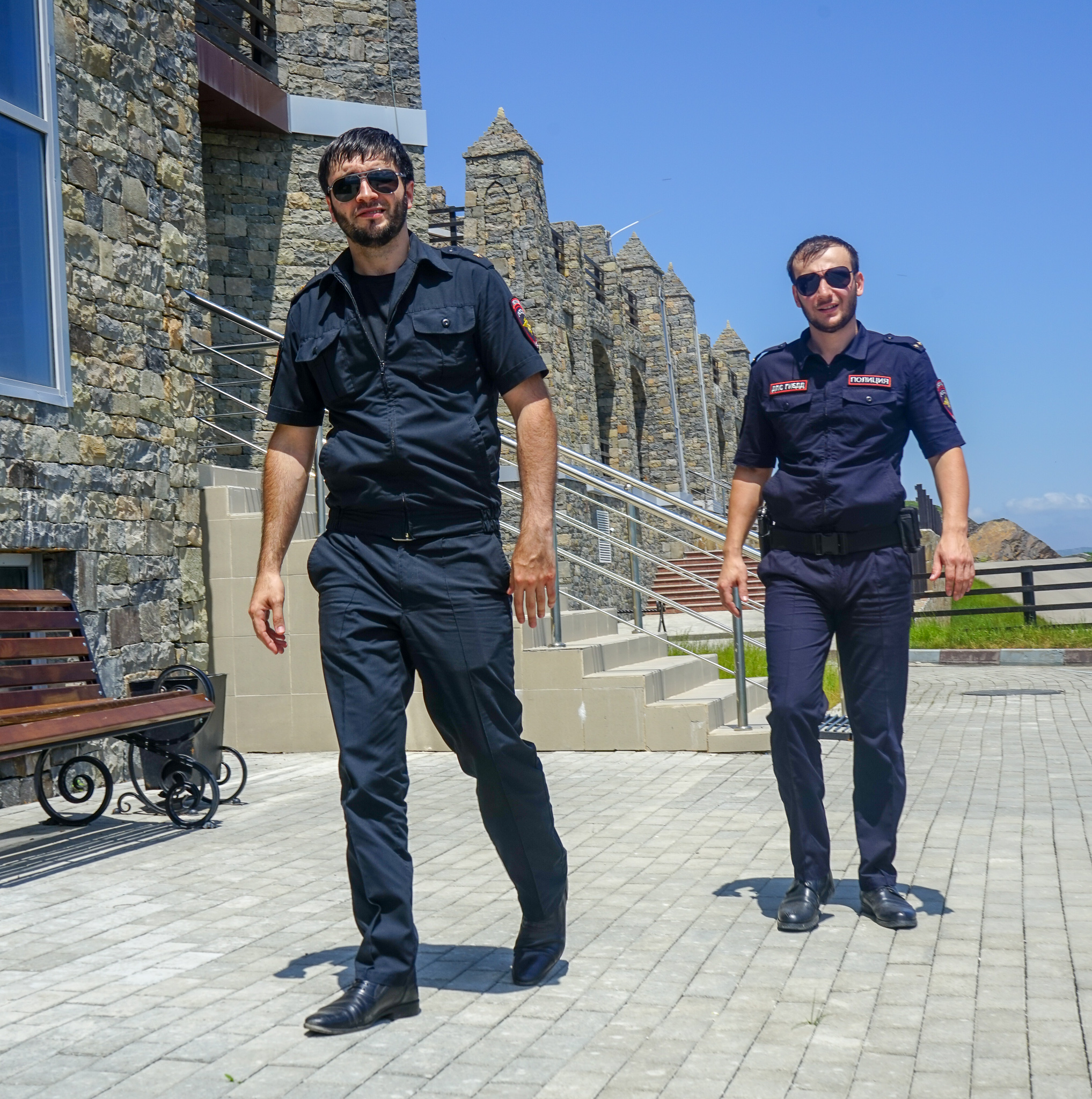 Adlan and Iznaur are Chechen road police officers, but here they are posing as Miami Vice beach police. There is no beach in Chechnya, but a luxury ski resort has opened recently high up in the mountains, and as the two policemen did not have much to do, they drove me there for a photo session and some impressive views.
Where Chechen rebels had been hiding from Russian airstrikes little more than a decade ago, strongman Ramzan Kadyrov has been pouring more than 100 million dollars into a luxury resort. Located in the remote Chechen mountains 80 km south of Grozny and 15 km from the Georgian border, it is supposed to offer 19 trails when completed, including a run of around 12 km, which would be among the longest in Europe. The skiing park is called Veduchi and its most prestigious hotel, next to which Adlan and Iznaur are posing here, holds the dulcet name "Edelweiss". When I visited in July, we had to go on a dirt road passing checkpoints with armed guards and much of the infrastructure was still under construction. In fact, when Kadyrov celebrated an early opening of the complex with fireworks and a laser show in January 2018, thousands of cubic meters of snow had to be hauled in by dozens of dump trucks to make skiing possible. After the rebuilding of the capital Grozny with shiny skyscrapers and shopping malls it is the goal of the Chechen leadership to turn their Republic, which is still most often associated with war and dictatorship, into a tourism hotspot. Veduchi is supposed to be an important step in that direction – and a base to breed Chechen champions in Alpine skiing, as a member of the Kadyrov clan said.
Adlan and Iznaur were visibly proud of the flashy new construction works near their home village of Itum Kale. If they will ever be able to afford to holiday there is another question.